Lynn Klemmer is a multimedia artist. She graduated at the National College of Art and Design in Dublin with a BA in Fine Art & Visual Culture (2017) and at the University of Potsdam with an MA in European Media Studies (2023).
Her practice works at the crossroads of analog and digital media, seeking to reconsider the place of the human in a rapidly evolving algorithmic, urban and natural landscape. By merging various visual elements, from natural imagery to digital symbols, advertisements and desolate urban structures, her films and installations suggest dissonant atmospheres and form hybrid audiovisual realities.
She is also a co-founder of Mnemozine, a Luxembourgish interdisciplinary research and
art collective which manifests itself as a platform for experiments in philosophy, sociology and contemporary art practice. As a member of Six Minutes Past Nine, she is currently co-developing a new virtual research and studio program.

Works In Progress 2023
Documentation of my residency at Kulturfabrik (2023).

New installation concepts and video works responding to research questions about witchcraft and witch hunting, the act of predicting the future, accidentality and new media.




Early look at an ongoing collaborative photography series created together with Mathieu Buchler.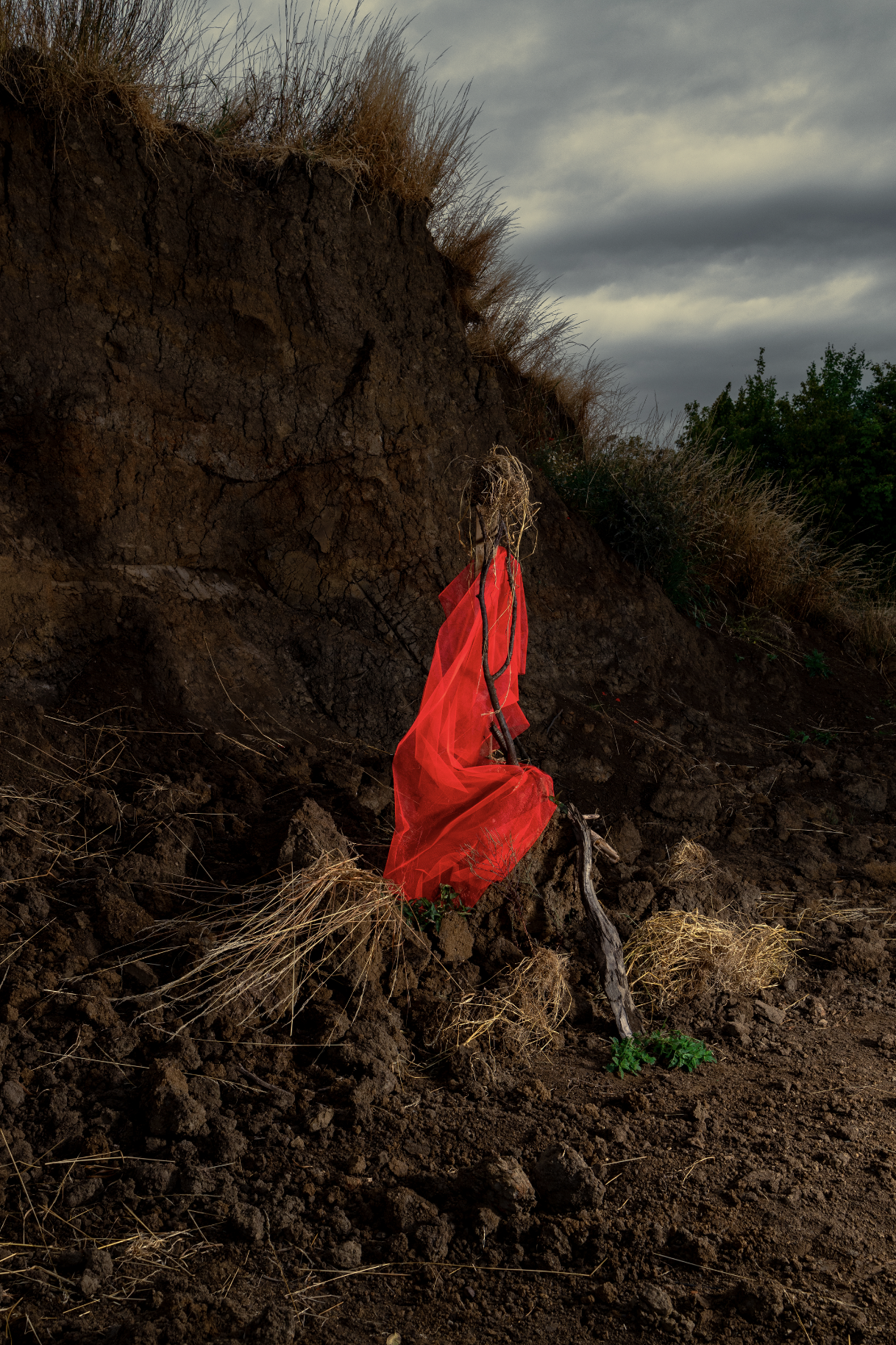 L.I.S.A Film 2023
"L.I.S.A." is an eight-minute single-channel video. It shows a sequence of unedited and edited scenes captured from unencrypted CCTV camera feeds. It contains a poem in the form of yellow subtitles as well as an audio piece and is intended to act as a seductive veil whose secret one seeks to lift. By delving into this sequence of poor-quality videos, the viewer is supposed to invent a narrative, imagine characters and relationships between the images. The project reveals a mediating, fictional level in our experience which distorts the relationship between subject and reality.








Untitled Transmission Installation 2022 - Wood, mixed media, 300x200cm
"Untitled Tranmission" is an installation consisting of a wooden sculpture resembling a high voltage tower placed in front of a greenscreen surrounded by lights.
The installation is meant to evoke a filmset in which the colour green acts as a referent to the greenscreen's inherent possibility to bridge the gap between the fictional and the real, to technology more generally, but also to the natural world.
In this constellation I also reflect upon screens, which act as physical mirrors or, when turned on, as gates into the digital realm. While all elements have their own meaning, they form new semantic connections when put in relation to each other.
The work is supposed to be puzzling while being impressive due to its size. It acts as a reminder of the omnipresence and yet invisibility or non-apparentness of ubiquitous new media, phones, computers and interfaces, but also of the infrastructure of electricity itself.
Marshall McLuhan states "The electric light is pure information. It is a medium without a message." Electricity is the best example of an infrastructure which dictates our everyday life while being completely invisible. We only see the infrastructures like cables and sockets, yet its actual power is felt only in non-apparent ways: as ripples of political conflict or as a commodity in the lifeworld.


Photos by Lynn Theisen. Exhibition View, Leap2022, Rotondes
The Mother Of All Demons Three digital images printed on artificial leather, 180x90cm


"The Mother of all Demons" is a selection of three digitally crafted images printed on faux leather, giving them a skin-like texture. To produce the images I disassembled my old personal computer and excavated the motherboard. A closeup of the circuit board is the starting point for the images which have been manipulated, distorted, glitched and layered in various programs. The straight lines of the motherboard turn into waves or flames and give the impression of chaos and ferocity. Rusty nails, gathered from burnt firewood, are used to pin the images onto the wall.
The images are a reflection on the natural side of technology and computers, highlighting and questioning the maternal and creative dimension of the term 'motherboard' (given for its hub-like quality and the possibility to insert extension-devices), as well as juxtaposing the solid green protective solder mask of a motherboard with the soft and pliable texture of leather.
The title, "The Mother of all Demons", is a haunting reference to and reimagination of the "Mother of all Demos", the first demonstration of many of the fundamental elements of modern personal computers by Douglas Engelbart in San Francisco in 1968.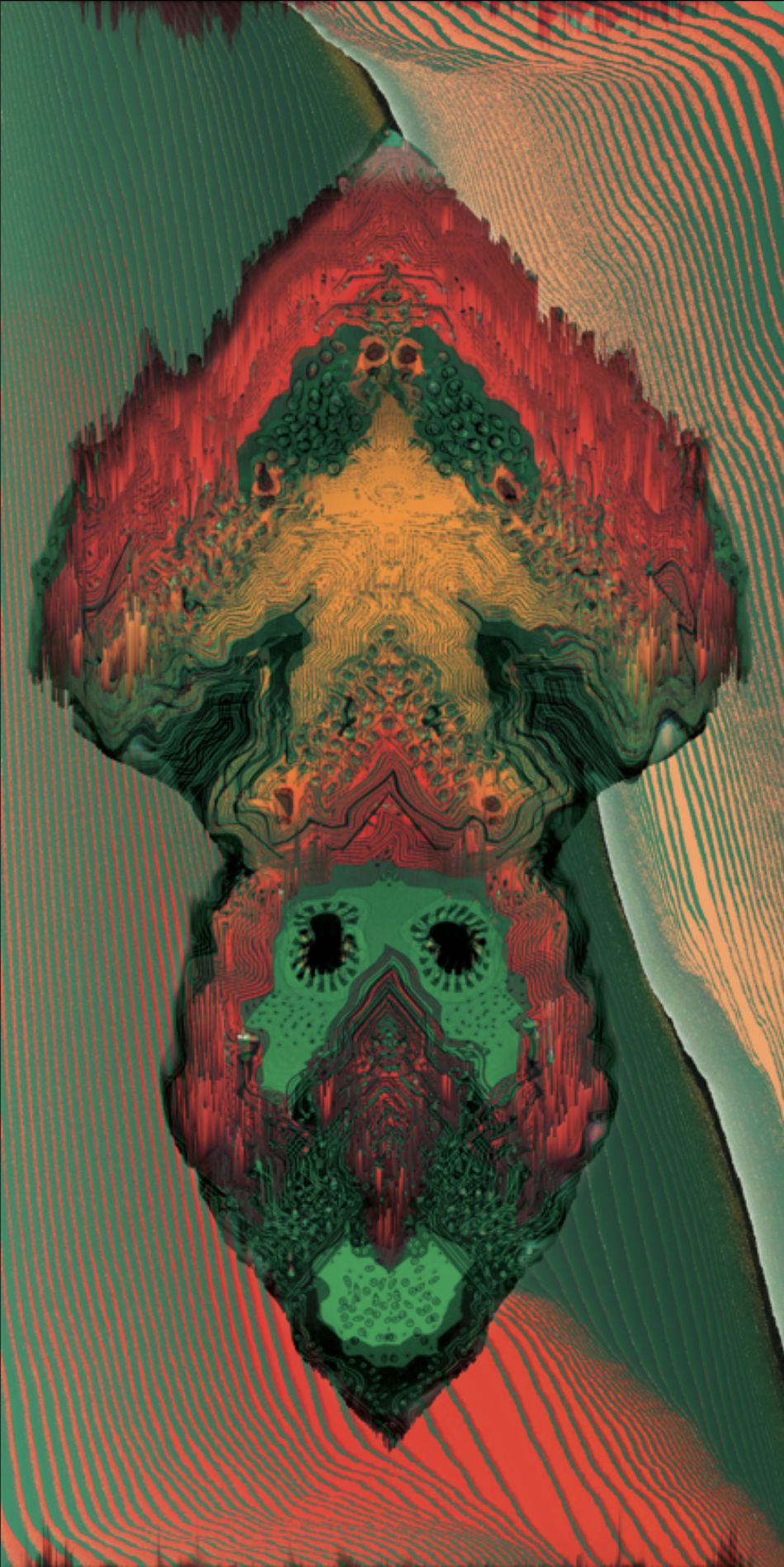 Photo by Lynn Theisen. Exhibition View, LEAP2022, Rotondes